How To Tie a Bandana in FOUR Simple Ways!
The bandanas' history can be traced back to the 18th century. If you're a fan of bandanas, you'll be pleased to learn that you may wear them in various ways. Today, we'll show you how to tie a bandana in four simple ways so you can effortlessly rock a retro look. 
All you have to do now is scroll down and read this article to attain your goal. Without further ado, get ready to steal the show by expertly styling your bandanas.
How To Tie a Bandana? Four Simple Ways!
If you don't have time to shampoo your hair; or if you've run out of dry shampoo yet need to be out all day. 
All you need is a bandana, which not only hides your tangled, unmanageable hair but also instantly transforms your appearance. 
There are various ways to use a bandana as a hair accessory, but we'll focus on four more popular and simple options.
#1 Simple Knot
To remove any tangles, brush your hair properly.

Tease the front and crown of your hair with a teaser comb.

If you're having a bad hair day, pull your hair back into a high ponytail and tease it a little to give it a sloppy look.

Tie your bandana in this manner.

Bring the bandana from beneath your ponytail to the top, with the loose ends at the top.

Make adjustments to the bandana and tie it in one or two loops. Make sure it's in good condition.

You can experiment with different hairstyles, such as leaving your hair open or knotted back, a sloppy bun, etc.

Both long and short hair look excellent with this style.
#2 Biker Style
It's known as biker style because men and women tie a bandana on lengthy journeys. It is both fashionable and protective of your hair. In simple terms, it has a 'do-rag' appearance.

Brush, tease, and then let your hair loose.

Fold the bandana in half, and you're done.

Wrap it around your head, this time bringing the loose ends to the crown.

You're done when you tie them up.

You can also wear your hair in a messy bun or a ponytail to achieve this appearance.

A bandana in the biker style is suitable for both short and long hair.
You may also read: 5 Ways To Style Your Trendy Denim Outfit Like A Slayer!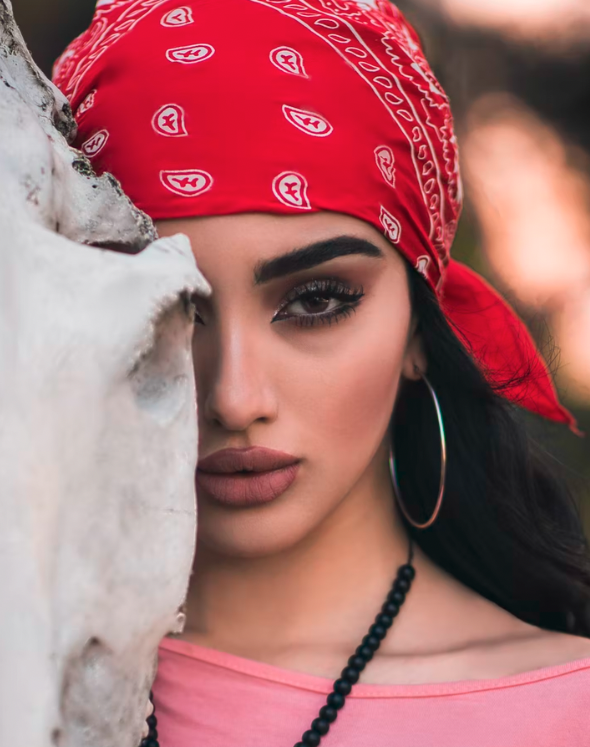 #3 Bandana Bow
Brush and tease your hair to create a sloppy bun or ponytail.

Fold the bandana into a sleek band and wrap it around the bun or ponytail (from under the neck).

Tie the ends of your hair at the crown of your head.

Make a bow with the remaining portion, as shown below.

It's easy and almost as simple as tying a shoelace. After a few practice sessions, you'll be a pro in no time.
#4 SweatBand Bandana
Make a ponytail or a topknot updo with your hair. Using bobby pins, secure the bun.

Make a thin bandana by folding the bandana in half.

Wrap it around your neck, starting at the nape of your neck.

Make a loop with the loose ends by bringing them to the center of your head.

Fold the remaining bandana in half and tuck it in. You've got a sweatband on your hands.

A sweat bandana is ideal when going for a run, hike, or even a walk. It has a stylish appearance and is also helpful.
It's no surprise that bandanas are famous all around the world. They're adaptable and easy to wear and can transform a simple look into a spectacular one in a matter of seconds. And now that you know how to tie a bandana in four simple ways, don't throw away your newfound expertise.
Did you find it noteworthy? Let us know in the comment section below.